From Signage to Shields. Thankful for our healthcare workers, and helping where we can.
April 2020
`
Thank you to all of our healthcare and essential workers. Their selflessness to help others every day, and especially in the light of current circumstances, does not go unnoticed.
Wondering how you can help make an essential worker's day? Here's a great link for ideas: https://www.littlethings.com/thank-healthcare-workers
We wanted to share our thanks for some of our partners. 
Thank you to our friends at MercyOne in Centerville, IA for your service and dedication. We only hope this shield will help protect your team at your check-in desk.
Coming together and innovating is at the core of our business. So when the COVID-19 pandemic began to impact our state and communities we began figuring out what we had, what we could do, and what we could produce to make a difference.
Many of our partners are in the healthcare business so we're naturally going to help where we can. A couple of weeks ago, Bryce Carlson saw a need for replacement shields in his market. He coordinated a pick up of an existing shield to use as a template. From this, we cut over 200 replacement shields and delivered them.
Terry Maxfield, our production manager, has led the charge. To date, our production team has produced over 700 face shields for those that have inquired.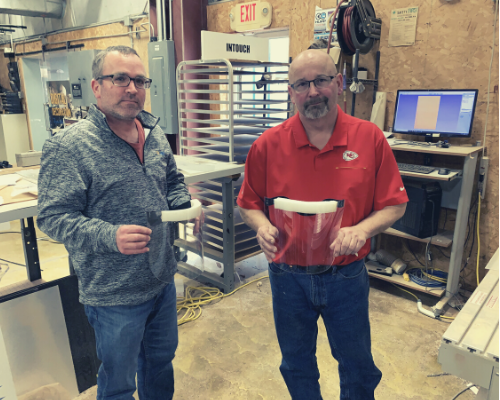 If you or your team are in need, please don't hesitate to reach out.
EMAIL US. We're helping wherever we can.
Like what you see?
Get more ideas, design, and inspiration delivered to your inbox on a monthly basis. Sign up for our email, we won't waste your time!