High School Athletics Records Board Signage
`
Tony & Tom Tackle 4 FAQs to Creating Signage to Recognize Athletic Accomplishments
Remember the big game in high school? The year your team finally made it to the state tournament? We do too!
Schools want to capture that energy and celebrate their athletic successes with signs. Record boards, similar to donor wall signage, come in all shapes and sizes and can accommodate anything the school wants to celebrate.
Sometimes it's a tall monument sign outside the high school to commemorate their many state titles. Other times it's a list of track and field record-holders hung on the side of the concession stand building. No matter what your school wants to highlight or how you want it to look, here are four questions our experts are frequently asked.
1. How do I get the most for my school's sign budget?
It's no secret that schools are always on a tight budget. Work with a signage expert to get the most for your money. Using value engineering, our team creates solutions that will add savings to the bottom line. "Originally, a school came to us wanting a tall sign with one panel for each state title. But that would have made the structure extremely tall," Squire says. "We reworked the design to make it shorter, making it more affordable. We also made it easier to update in the future, preserving their investment." Learn more about this project here.
Since we are also a manufacturer, our signage experts have access to many manufacturing techniques and products. They know what materials will achieve the desired look without adding weight or extra production time to a project. Be sure to discuss energy-saving maintenance solutions such as LED illumination or solar-powered signage.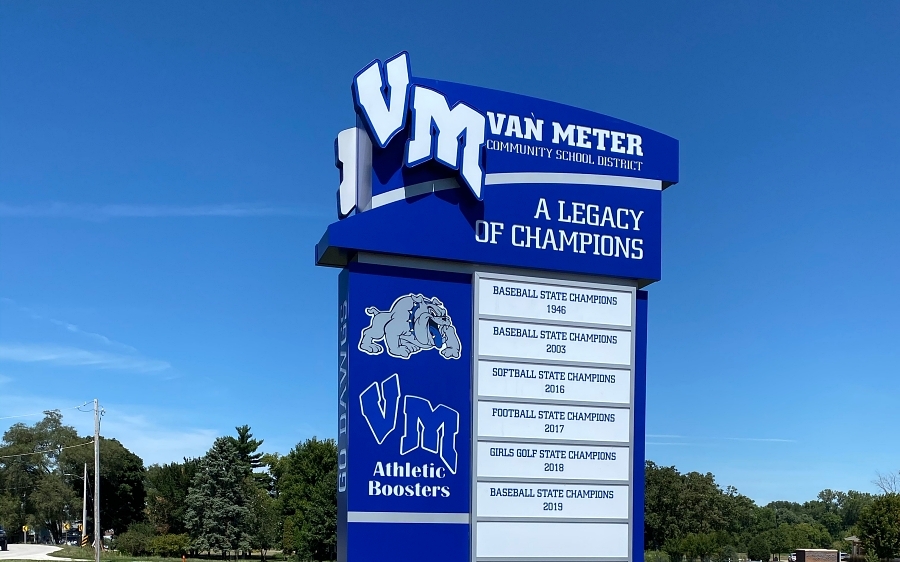 2. Can you have a custom sign AND make everything fit?
There is a way to include everything. Don't accept a once-size-fits-all solution that forces you to cut out decades-old achievements. Signage experts thrive on creative solutions that are tailored to the specific school and their goals. "You can always find a way to make it all fit," says Tony Squire, Central Iowa Sign Expert. "There's no reason to cut out a part of history. If you want the design to include all the state titles, we can rethink the space and the design to include everyone—including future champions."
3. How do you make signs flexible for future growth?
As part of the space planning and design process, consider how the sign will be updated in the future. "No record is going to stand forever," says Tom Wilcoxen, Central Illinois Sign Expert. "Removable panels and vinyl lettering is an easy way to update school record signage. For example, if you have a track star tearing up the history books, we can easily unscrew a panel and produce new vinyl letters to update it with their success."
Locking yourself into a set design will cost you more down the road.
*Example below shows names descend by years so the newest names can be added to the top.
4. How do you get buy-in from all the stakeholders?
There are many stakeholders in any community school project. While a booster club or athletics department may be driving an initiative, it's important to get buy-in from administrators and facilities. Our signage experts can provide a complete overview of what it will take to maintain or power a school-record sign for school board approval or facilities maintenance plans. Working collaboratively with an inter-departmental team from the start makes it easier to address issues promptly and avoid delays.
If you're interested in a record board sign for your community, reach out to one of our sign experts to see how we can create a custom sign that fits your needs and budget.

Like what you see?
Get more ideas, design, and inspiration delivered to your inbox on a monthly basis. Sign up for our email, we won't waste your time!