Signs of Good Health: Challenging Employee Wellness
September 2019
`
Ashley LaRue, Latitude's own health champion, shares what she's learned over 13 years as an advocate for healthy work habits and ways she's helped get our team moving through employee wellness initiatives.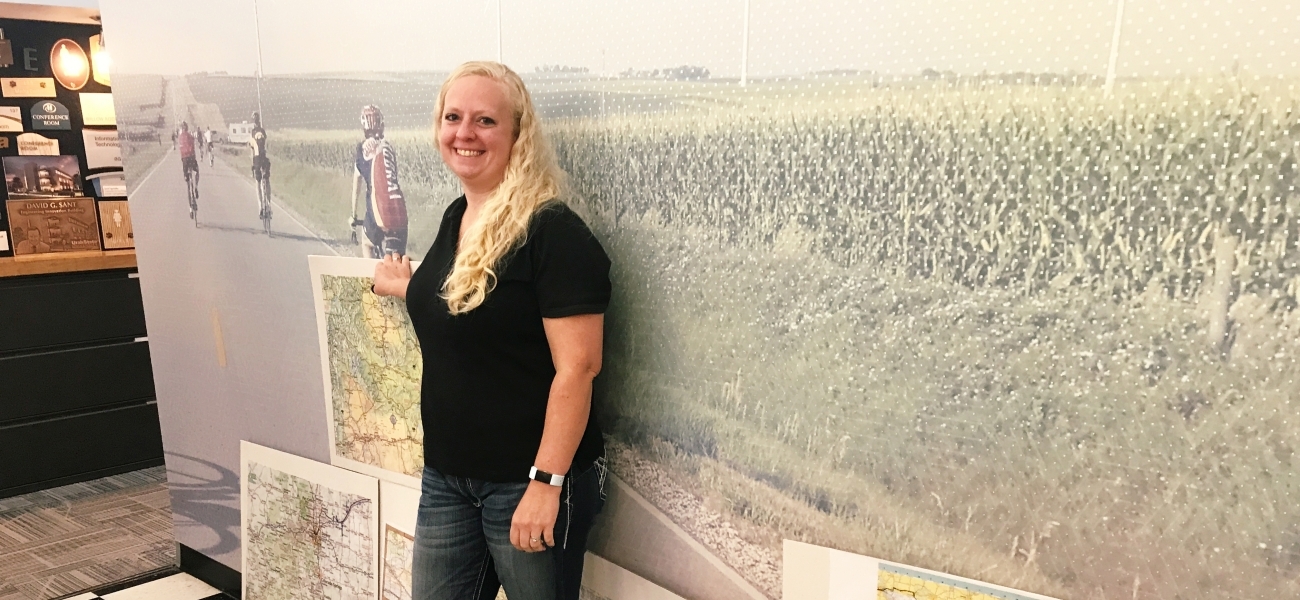 Encouraging Employee Wellness: Go Crush that Goal!
When I started working here, almost 13 years ago, some of my coworkers were attempting a "Biggest Loser" challenge. They had a hard time staying motivated so I created some employee wellness challenges and became an internal cheerleader. That lead me to develop more challenge ideas, that would also be easy to stick to. Here's what I've learned in my years of coordinating employee wellness challenges for our Latitude, Latimer Group team.
As I was encouraging others around me it helped keep myself motivated and accountable. I couldn't encourage healthier habits in others if I didn't practice them myself. I found that I felt better (mentally and physically) and I slept better at night. That lead to wanting to show others they could make time to do the same thing.

Motivating and encouraging others makes me happy! It's hard not to smile when you see someone set a goal and crush it, and know you played a small role in that.
2 Keys to Employee Wellness Challenges
1. Mix It Up
I've learned with the challenges, that variety is very important. Not everyone wants to change their physical habits, but maybe they want to change dietary habits, for example. Health comes in many forms. It's not just about weight and size, mental health is also a huge factor. Offer a variety of challenges. Some more physical, some diet focused, some mental. For example, a walking challenge is a simple physical challenge. Hold a healthy recipe potluck with copies of the recipes and share why it's healthy to you (dietary). Offer a meditation challenge (mental).

2. Let Participants Pick Their Favorites
Lastly, I've learned that I can't please everyone and not everyone will want to participate. Some may not like the rules that come with certain challenges, and that's okay! It just means that a challenge isn't for them. But I always invite EVERYONE at the start of each challenge.
11 Wellness Challenges Your Team Can Tackle
Because if we can do it, so can you.
Here is a list of my favorite employee wellness challenges, in order of success with our team:
1. RAWCNII - Race Across Wyoming Colorado Nebraska Iowa and Illinois, these are all of our territories in our company.
Physical activity was counted in miles with a Google spreadsheet that everyone could update their own activities. Teams moved across the Latitude Territories based on their team's cumulative mileage with stage winners for cities where we have offices. Maps with physical markers were created and updated weekly in the Grinnell office with photographs being shared to all territories.
A dedicated hashtag was created for Instagram and everyone was encouraged to post fun pictures of them out and getting miles for the challenge. Here's the hashtag if you want to check them out. #LatitudeRawcnii
This has been our most participated challenge and is a fun summer challenge.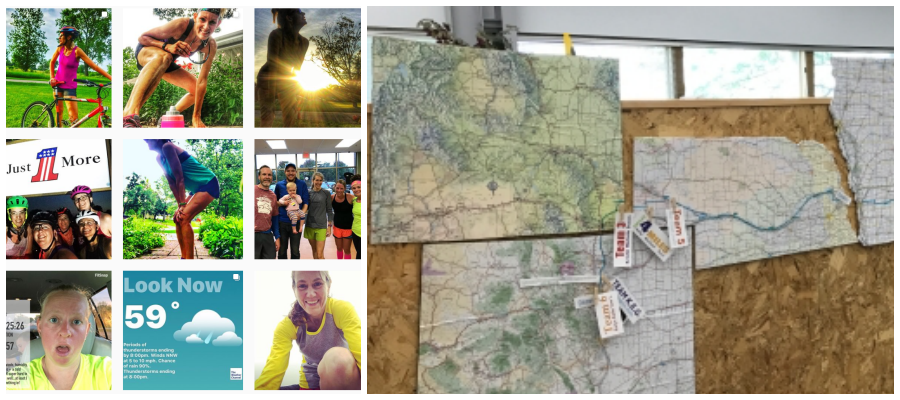 2. Fight For Air
We counted flights of stairs climbed in relation to the tallest buildings of the cities where we have offices. For example, in Chicago we tracked flights of stairs to reach the top of the Willis Tower.
In addition, we annually organize a team for the American Lung Association's Fight for Air Climb in Des Moines. More information here.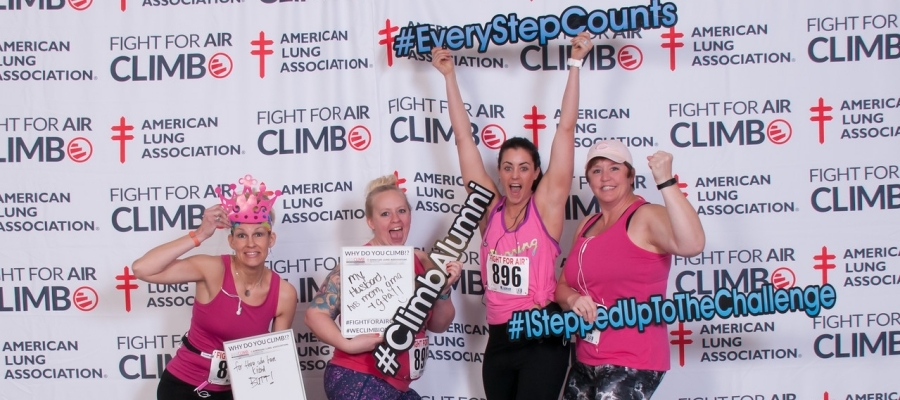 3. Walk it Out
Individuals set a goal, and then tracked how many days they would hit their walking or running minutes goal.
4. Recipe Challenge
Each week I sent a different category to participants. Each participant submits a new healthy recipe in that category. The intent is to create a new healthy recipe cookbook from submitted recipes. Everyone who participates in all 4 weeks goes into a drawing for a gift card.
5. Yoga
A poster showing yoga poses and a brief description and tracking sheet are handed/emailed out each week.
Poses are demonstrated at the beginning of each week. I demonstrated/guided everyone through the poses so they knew how to do it on their own, kind of like a mini yoga class. The poses change each week. Those who complete the challenge have their names put in a drawing for a gift card.
6. 100 Miles in November
This challenge has teams of two, each submitting $5. Both teammates track their miles of activity the whole month of November. Teams who make it to 100 miles have their names put in a drawing to win the total amount of entry fees.
7. Scrabble
Play a traditional game of Scrabble with only healthy words. Participants can earn extra points by taking/submitting a video/photo of that word in action.
8. Arms and Shoulders
Participants get a calendar of different workouts targeting the arms and shoulders. Those who complete the challenge are put in a drawing for a gift card.
9. Better Booty
Participants get a calendar of different workouts targeting the legs and glutes. Those who do their daily workout are put in a drawing for a gift card.
10. Plank
Participants get a calendar of different plank workouts. Those who complete their daily workouts in the timeframe are put in a drawing for a gift card.
11. Core
Participants get a calendar of different workouts that targets the core muscles. Those who complete their daily workouts in the timeframe are put in a drawing for a gift card.
3 of the 10 Insane Facts About Corporate Wellness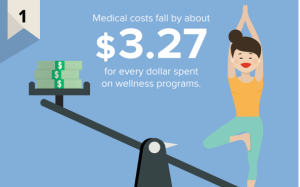 1. Medical Costs fall by about $3.27 for every dollar spent on wellness programs.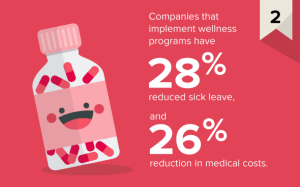 2. Companies that implement wellness programs have 28% reduced sick leave, and 26% reduction in medical costs.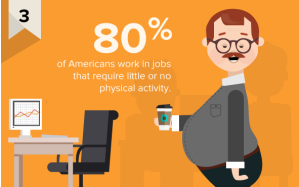 3. 80% of Americans work in jobs that require little or no physical activity.
Have questions or want to learn more about any of the challenges we've done? Email us anytime at connect@latitudesignage.com.
Like what you see?
Get more ideas, design, and inspiration delivered to your inbox on a monthly basis. Sign up for our email, we won't waste your time!