What is Wayfinding Signage?
`
Simply said, wayfinding signage are the signs that tell you where to go. They help you to orient yourself then plan and follow a route to find specific buildings, parking lots, restrooms, and places of interest.
But developing a wayfinding system is not so simple. There is a science to directing people to their desired destination. It must be simple, clear, and placed in the appropriate location.
Bradley University in Peoria, Illinois, and Grinnell College in Grinnell, Iowa, both updated their campus wayfinding systems with new signs from Latitude Signage, Latimer Group. Here are four things you need to consider for college wayfinding signage.
WHAT ARE THE 4 KEYS TO WAYFINDING SIGNAGE ON COLLEGE CAMPUSES?
1. Wayfinding Signs that Lead to Campus
Visitors are no longer relying on paper maps or word of mouth directions when they plan a campus visit. They plug in the destination on Google Maps and follow accordingly. When developing wayfinding signage for a college, it's important to know where Google Maps is directing people to campus.
When Tom Wilcoxen, Central Illinois sign expert, worked with Bradley University, he discovered that Google maps was leading visitors to an unmarked corner of campus. This discovery led to a new 9-foot-tall illuminated sign that directs guests to visitor parking and other important destinations.
Knowing and understanding the audience is the first step. Wayfinding signage that leads to campus needs to include information for all guests. For prospective students, that's probably the admissions office. For event-goers, it may be a sporting venue, theater, or concert hall. And all guests are looking for a place to park. Parking and public buildings on campus are important items to consider for wayfinding signage around campus.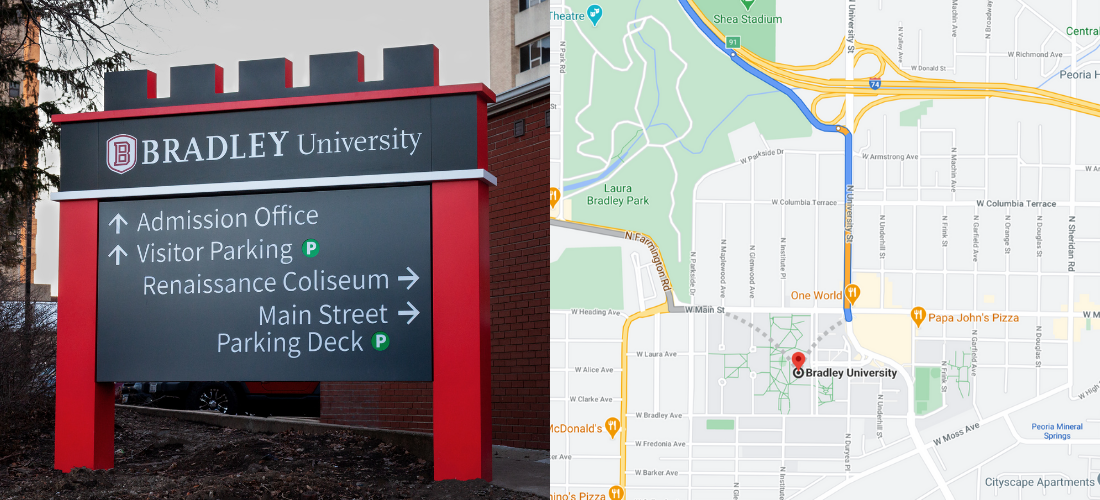 2. Wayfinding Signs for Pedestrian Traffic
"You have to think like a prospective student," says Ben Latimer, digital sign expert. "They don't know the humanities building from the cafeteria. Once they leave the admissions office, they need signs pointing them where they need to go."
Creating a seamless wayfinding experience for guests on campus is an important part of recruiting students. If prospective students and families feel like the campus is too hard to navigate, they will lose interest in coming back. However, if the environmental wayfinding signage is well designed, they are free to concentrate on the college visit and imagine their future on campus.
Pedestrian wayfinding signage should also direct guests from visitor parking to landmarks on campus. As soon as they step out of their vehicle, they should be greeted with a sign that directs them to their destination on campus.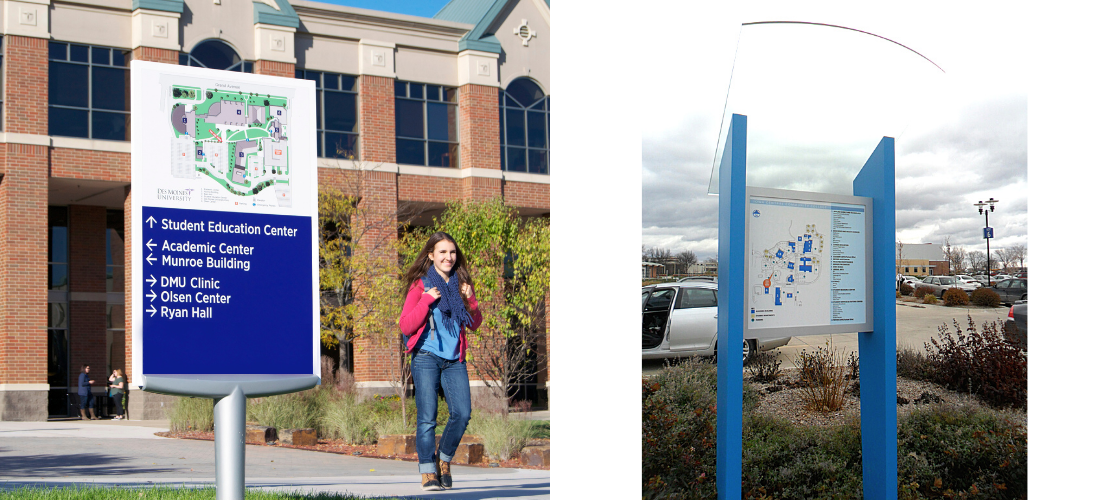 3. Wayfinding Signs for Accessibility
Colleges grow over time. And while most modern buildings have accessible features built into them, some older structures may have been retrofitted over time. For example, if an old stone building has only a staircase leading to the main door, there may be a ramp built into a side entrance or back hall. Directional signage that clearly guides people to wheelchair-accessible entrances and elevators is an essential part of a complete campus wayfinding package.

4. Wayfinding Signs Should be Easy to Read
Every type of sign needs to be legible especially at dusk and at night. LED lighting is ideal for illuminated wayfinding signs that direct traffic around campus. For signs that aren't illuminated, reflective vinyl is an option, but always ensure the copy is large enough to be spotted quickly and easy to follow. Your sign expert can help you with visibility tips and formulas for letter heights.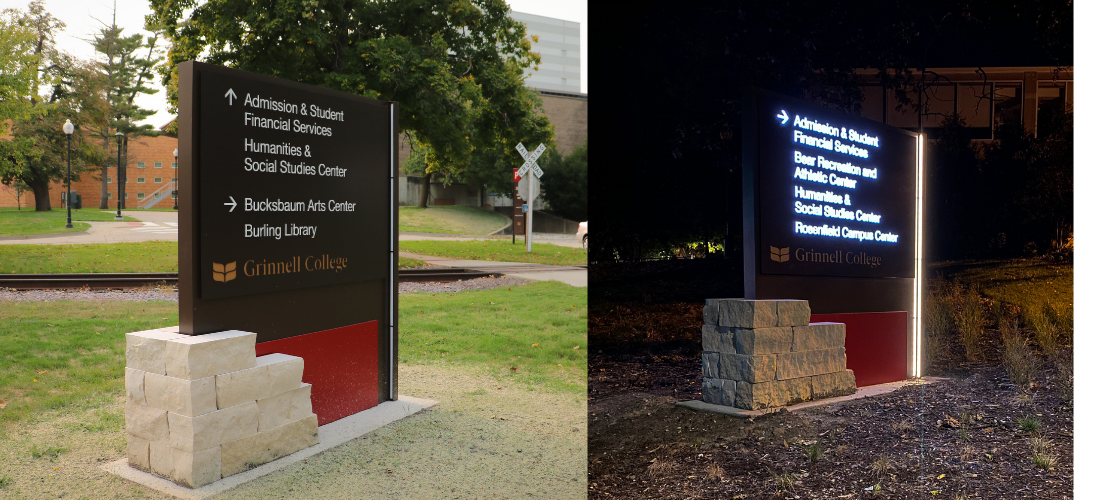 Here are some options to learn more about the science of wayfinding signs:
Have Wayfinding questions? Reach out to Kristin Adkins, Wayfinding Signage Expert 👉🏻

Find an expert for any questions you might have.
Like what you see?
Get more ideas, design, and inspiration delivered to your inbox on a monthly basis. Sign up for our email, we won't waste your time!