When Design & Manufacturing Collaborate: Clients Win!
`
Imagine you're building a house. The architect creates a brilliant design. You take it to a contractor and they give you 100 reasons why it won't work, or they tell you the things you love about the original concept will have to change. Frustrated, you end up with a house that's functional but doesn't have the grandeur you envisioned.
The same often goes for architectural signage. Designers and fabricators aren't always on the same page especially if they're not working together. The worst feeling is thinking your sign is being installed in three weeks only to find out there's an issue with the design once it goes to production. Ryan Hudnut, Construction Design Manager, oversees this part of our business. His experience in both design and fabrication are the perfect combination to lead this process.
Designers need to be experts at interpreting brand standards and putting a creative spin on how logos, colors, and fonts work within a complete architectural signage package. Fabricators bring the vision to life. This collaboration of specialties is essential to Latitude. Together they discuss engineering, wind load, the best way to add illumination, and how to value engineer materials for design. It is possible because both the design and all the interior and exterior sign manufacturing is done in Grinnell then delivered or shipped to install locations across the country.
"Most problems can be solved before the job even hits production. Our collaborative process allows us to make suggestions, across specialties, about complications we have run into on past projects that may be helpful on the current project," says Eugene Peart, Director of Design. Eugene's expertise in design of both interior and exterior signage allows him to lead and establish such a collaborative process.
For example, Latitude recently completed a project for the Kum & Go Stage at the Iowa State Fair. The concept was for a sign that looked like a giant guitar with neon lights to hang above the stage. The body of the guitar was 22-feet long. It was built in Grinnell and delivered to the fairgrounds in one piece and hung over the main stage. Designers and production collaborated to make the sign with flexible LED lights that created the look of neon at a much more affordable price. They also had to engineer the sign to make sure it could be securely installed onto a temporary outdoor stage and then easily removed, stored, and used for consecutive years.
"What's great about the process at Latitude, is that a client could literally come to us with a sketch on a napkin, and we could make it happen," says Mike McKeag, President and COO. "Our designers know how to value engineer the design to create the desired look, and they bounce ideas off the production team to make sure every engineering consideration regarding weight, weather, and wind is taken into account."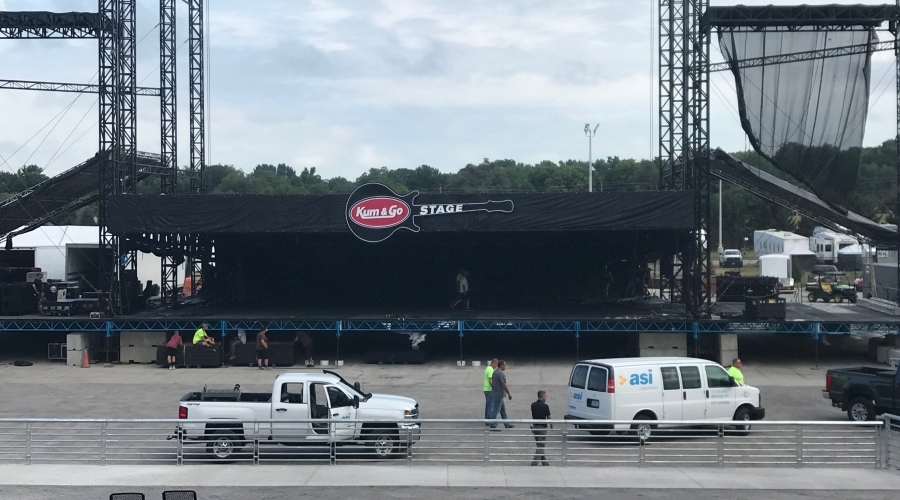 This collaborative approach also served the Johnson County Board of Supervisors very well. The Board wanted a rustic-looking sign to mark a historical farm near Iowa City. Latitude suggested a faux corten steel material, that uses a chemical reaction to create the look of rusted metal. This suggestion reduced costs allowing the Board to include illumination in the sign. Bringing solar-powered lights into the sign impacted the design. Latitude seamlessly reworked the plans for the sign to create a place in the sign's stone base to house the solar battery and added an access panel that can be removed for maintenance.
"The Johnson County Historic Poor Farm project is a great example of how we can use innovative materials and technology to go beyond our clients' expectations to create something that looks great and matches their desired style while giving them more functionality," says Bryce Carlson, Business Development Manager.
If you're knocking around some ideas for an innovative exterior sign design, let Latitude make it a reality. "Bring us your wild, crazy ideas," says Todd Carey, VP Business Development & Marketing. "There's nothing more rewarding for us than to take an idea and bring it to life. The only limit is our creativity."
Like what you see?
Get more ideas, design, and inspiration delivered to your inbox on a monthly basis. Sign up for our email, we won't waste your time!