Goodbye Boring, Hello Fresh New Brand
Kum & Go's Comprehensive Signage Package Creates New Brand Experience
Kum & Go convenience stores recently began an extensive rebranding process. To illustrate their high-quality customer service, family-owned roots, and extensive fresh food offerings, the company uses the ampersand to symbolize their brand and how customers get more from their stores.
To bring their new brand vision to life, Latitude was tasked with taking conceptual marketing designs of their new store design and developing a complete architectural signage package. The centerpiece of Kum & Go's new marketplace store design is an elevated food experience. Features include an open kitchen layout, outdoor patio seating, free wifi, and an expansive beer cave and growler station.
Kum & Go wanted a clean, simple look to suit the modern style of the new stores. It was also essential to bring the ampersand and their brand colors, fonts, and artwork into the design.
In addition to following the new brand style, the architectural signage package had to direct customers to their point-of-purchase and fresh food offerings with wayfinding signage solutions. It also needed to inform guests about the free wifi, accessible seating, LEED initiatives, and company history.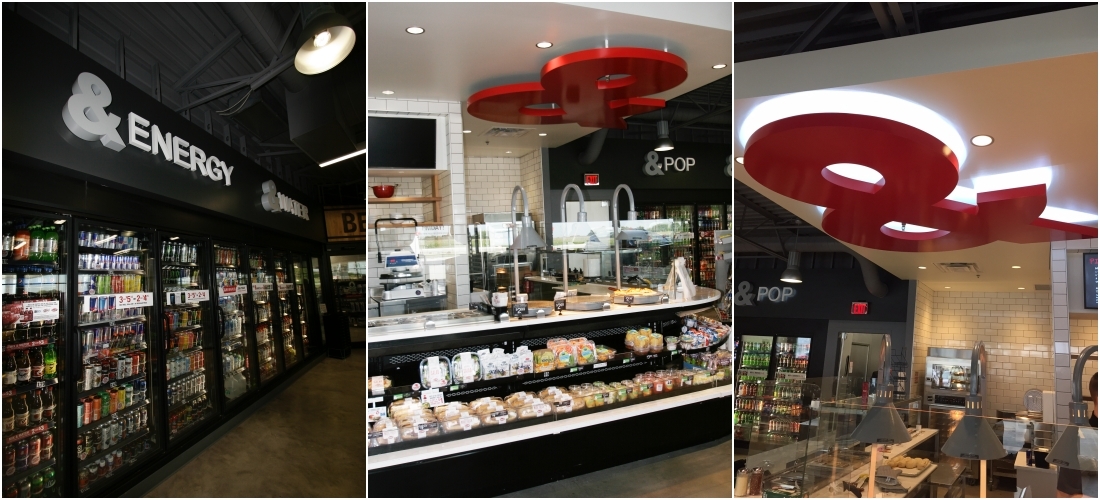 SIGNAGE PRODUCTS
From the signage at the pumps and on the exterior to the interior sign plan, everything works together to wrap the Kum & Go customer in a consistent brand message. For example, all of Kum & Go's new stores are LEED certified, with a series of signs that teach customers the many ways Kum & Go fulfills their commitment to sustainability. Latitude's complete architectural signage package includes dimensional lettering, large format environmental graphics, point-of-purchase, code, and informationally branded graphics.
There are 25-30 new stores being developed each year with locations from Iowa to Colorado and Wyoming and south to Missouri and Arkansas. With the quick pace of the new store construction, Latitude produces and installs signage for each new store within a one month timeframe.
Product Types or Product Name(s):
Brushed Aluminum Intac Series
Large Format Environmental Graphics
LF Series Letters
PAP Series overheads
Service Offering(s):
Value Engineering
Design Development
Manufacturing
Installation
Like what you see?
Get more ideas, design, and inspiration delivered to your inbox on a monthly basis. Sign up for our email, we won't waste your time!