3 B's to Theatre Signage: Budget. Brand. Beauty.
`
When most people think about theatres, it's big screens, buttery calorie-laden popcorn and dimmed lights that come to mind. But for signage experts, theatres mean huge marquee signs designed to grab theatre-goer attention with an eye on the budget.
Our signage team including sales representatives, installers, designers, and engineers, have worked on multiple signage projects for theatres. Each was different in terms of architectural design, materials, goals for the project, and customer type, but three common themes run through all cinema signage.
Budget, brand, and beauty are the key elements to creating effective signage that deliver to both the aesthetics of the environment and the client's budget.
Keeping Signage On A Budget
A top priority for most theatre signage clients, or any clients for that matter, is budget. In some instances, clients may be constrained to funds raised to support the project. Other times, a person's job could be on the line if the amount spent isn't kept in check.
This HubSpot article points to four main reasons projects go off-budget:
The decision-maker is not involved in the project.
Requirements for the project are not clearly defined.
Initial milestones have been missed.
Roles and responsibilities are unclear.
Our experience shows that when we meet with decision-makers early on to see where the signs will be located and review all the possible scenarios before quoting a signage project, we're able to deliver, on-time, on-budget and meet signage project expectations..
On a recent theatre sign project, the Red Oak Grand Theatre, we encountered a situation where the original plan and quote was based on just replacing the signs, but then discovered the canopy over the front doors needed additional engineering to support the sign. This resulted in a revised calculation.
Thankfully, situations like this can be salvaged if caught early and/or we can find ways to save the client money in other areas, such as reducing the scope or swapping out materials for something comparable but more cost-effective. A valued signage partner will know how to make these adjustments without sacrificing quality.
It's also important to have conversations upfront about the capabilities of the signage company you work with — Will they be able to complete all the work from planning and design to installation? If not, what will it cost to bring someone else on the project?
And don't forget to leave a little wiggle room. Unexpected situations will arise — preparing ahead of time gives everyone peace of mind that expectations will still be met.

Your brand and message are important; branded signage should reflect your theatre clearly and provide an attractive design that is durable and prominent. When we begin work, part of the process is analyzing the theatre owner's goals, visions, and purpose to determine how best to represent that in the signage.
You want to consider:
Who the signs are targeting
Whether they will be a classic marquee style or digital signage application
What role each sign plays in the overall identity of the theatre
The function of each of the different signs
A business can brand themselves in many ways — through their business cards, marketing collateral, or website. But for a brick and mortar presence like a theatre, exterior signage is an essential component of attracting customers.
Your visual brand is the first touchpoint with customers and clients, and it is the first piece of information people are processing.
A brand sends an implicit message about the business to the customers and potential customers so a sign design mismatched with the brand is more detrimental than you might imagine.
You may never have thought about it before, but signs have the ability to generate goodwill and loyalty as well as build an emotional connection with patrons. That was certainly the case in previous projects we've been a part of – from building out a Donor Wall for FilmScene to the historical marquee sign at the Red Oak Grand Theatre.
Branding is about stimulating feel-good emotions and providing a memorable customer experience, which we strive for in every sign design.
Beautiful Theatre Signage Transports Customers
Beauty as an element of signage design demands a balance of lighting and product application to deliver eye-catching displays and to make your theatre a visible landmark within the community. This is definitely the case for the Dundee Theatre in Omaha. 👉🏻
Imagine theatre-goers being transported to another time and place simply through design elements of signage. The creative elements you incorporate into the signage, will add to the aesthetic appeal and help a business stand out. This is paramount in today's competitive environment.
From materials, lighting, graphics, and images, both exterior signage and interior signage should apply the same brand guidelines you would use to create cohesiveness in all your marketing efforts.
Beauty in signage is really marrying the brand with the materials and other design elements, such as size, font, and colors. We experienced this in designing signage for The Chauncey in Iowa City in Iowa City. When the lighted signs were turned on at the grand opening, the audible awe among the crowd was the reaction to the power of beautiful signage.👇🏼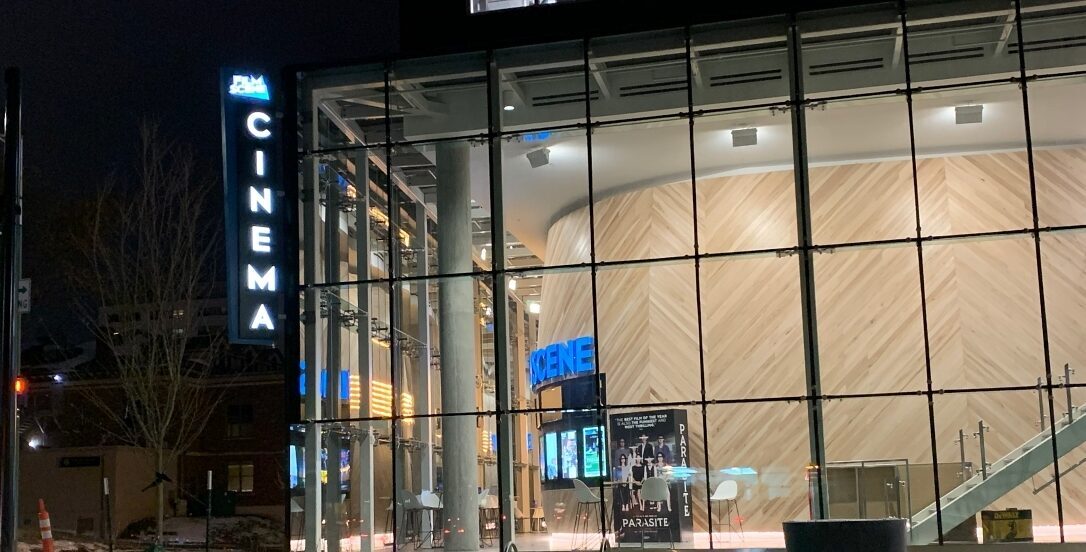 Success in Theatre Signage Projects
With theatre projects, as with most signage projects, there are a lot of moving parts. For it to be a success, lots of things need to come together just right. If you choose a great signage partner and keep these three pillars of spot-on theatre signage in mind, you'll be way ahead of the curve in delivering solutions that turn your clients into repeat customers.
Need some guidance to create some "awe" for your signage project?

Like what you see?
Get more ideas, design, and inspiration delivered to your inbox on a monthly basis. Sign up for our email, we won't waste your time!