Honoring Red Oak Iowa Grand Theatre History with Classic Marquee Signage
Our commitment to having a new marquee was of utmost importance to the board. I feel like I have a new extended family with the employees who understood what we were all about and strived to make the marquee possible.
With a classic nod to the past, but designed for today's moviegoers. Originally opened in 1935, the marquee for historic Red Oak Grand Theatre exterior signage was unveiled in October 2019. A flip of the switch and the marquee lighting brought the charm of this community theatre to life.
Theatre board member, Jeanice Lester, expressed just how important lighting the new sign is to the community, the value of the relationship with our signage team and how moving the project forward is another step toward a great future for Red Oak.
"Our commitment to having a new marquee was of utmost importance to the board. I feel like I have a new extended family with the employees who understood what we were all about and strived to make the marquee possible."
The Red Oak Grand Theatre, at 410 East Coolbaugh Street in Red Oak, Iowa, is a 501c (3) organization, solely donation-based and volunteer-operated. Among the best movie-going value in Iowa, tickets are only $2 for feature films that play on Friday, Saturday, and Sunday.
The historic theatre reopened in September 2010 with a mission to create affordable, family-friendly entertainment. With the help of a signage partner, they were able to bring the history of the small town, southwest Iowa theatre to life and create a one-of-a-kind experience for the members of their community.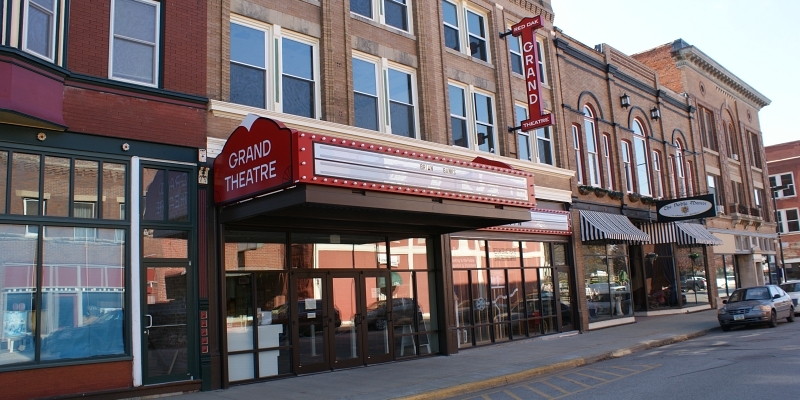 Key Factors in Designing Signage for the Red Oak Grand Theatre
Honoring history
Celebrating community
Respecting the budget
Respecting history and how this exterior sign should complement the town aesthetics while designing for today's lighting needs was our designer's goal. Researching historical photos, the architect, engineer and signage designer focused on replicating the past with new signage.
Red Oak residents and members of the board agree the new marquee sign is a throwback to theatre days gone by. But including Red Oak residents as part of the project team meant the final product will now reflect the personality, the community and the rich cinematic history of this Iowa town.
To achieve a vintage style and preserve the integrity of the project, the team opted for classic, changeable letter board application rather than digital signage solutions our company has previously applied to theater projects like the Dundee Theatre in Omaha.
Where digital signage is designed for efficiencies of content or message changes, using this changeable letter signage that incorporates aluminum cabinet, LED's, and lights maintain the small-town, slowed-down charm communities like Red Oak appreciate. This style both kept the historical look and kept the budget in check.
Balancing quality, durability and the budget of this non-profit project, our project team was able to deliver the exact design elements and install the final product within the board's $140,000 budget.
The relationships built are my favorite part of every project.
Signage Installation: The Canopy Challenge
Various factors impact signage; weather, weight, durability are just some of the considerations our team encounters. Sometimes a sign project has to adjust to the environment. In this case, the theatre's existing canopy needed to be addressed before the signage could be installed.
Since the weight of snow is a reality in Iowa, an engineer was hired to design a new canopy that would allow the marquee to be structurally sound on the canopy.
Theatre board member, Jeanice Lester, said, "As our plans were moving along steadily with the new marquee, the theater board discovered from a second structural engineer that our current awning would not be sufficient to hold our beautiful new marquee and snow loads. Latitude Signage + Design took us under their wings and guided us to a completion date in October 2019."
While the new canopy was not part of the original cost projections, sales representative, Erin Carey, suggested some cost-saving solutions that reduced the number of signs and placed it in the most prominent view for the town square location. This new idea reduced costs, saving the board and the signage project thousands of dollars.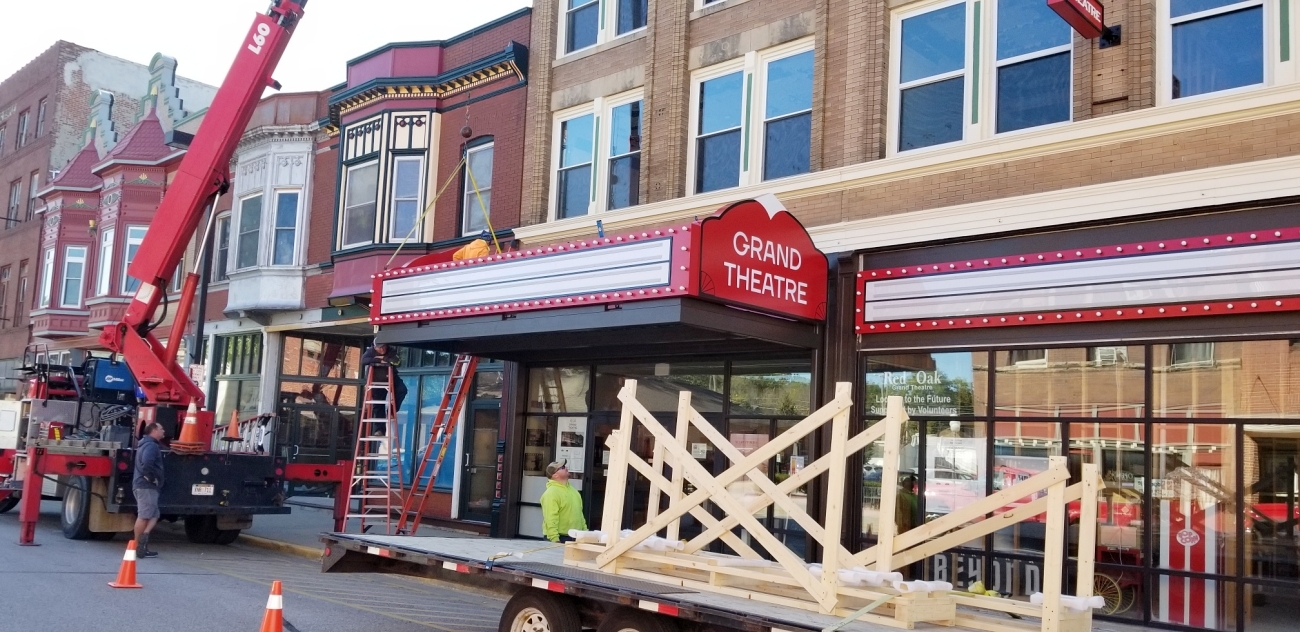 The Collaboration Beyond the Sign
Great solutions come from great relationships. Our team prides itself on being a partner and consultant on all projects. This connection throughout the process which ensures a more seamless delivery and communication throughout.
"I developed a great relationship with Jeanice. The relationships built are my favorite part of every project," said Carey.
Carey was instrumental in providing a direct line of communication. It was constant and candid, which the board members seemed to appreciate. "We are partners, I wanted to ensure they got the most they could for their budget," Carey said.
It never ceases to amaze Carey just how important every detail is in a signage project, especially when it comes to a nonprofit board. Erin expressed, "being thoughtful with donor money is my top priority." It couldn't be done without a team, and there were nearly 10 people involved in this particular project, which is more than most. Erin said she had just a "small part," but was involved throughout the entire process. It is important for her to respond quickly and provide quality answers to the client.
The right partners make a project successful. Trust, communication and bringing the solutions that meet the outcomes to the project are essential.
"Bottom line... I am pretty sure we could not have completed it without the help of our friends at Latitude Signage + Design," Lester said." " I had the privilege with another board member (Carol) to visit their location in Grinnell, Iowa and we were impressed with the facilities and employees. If needed in the future, they would be tops on our list."
"It felt good to do something for a small community," Carey said. "The relationship developed and a goal to support the client was what made this project a success. Any time you do that, it goes a long way towards future projects and establishing yourself as a trusted signage partner."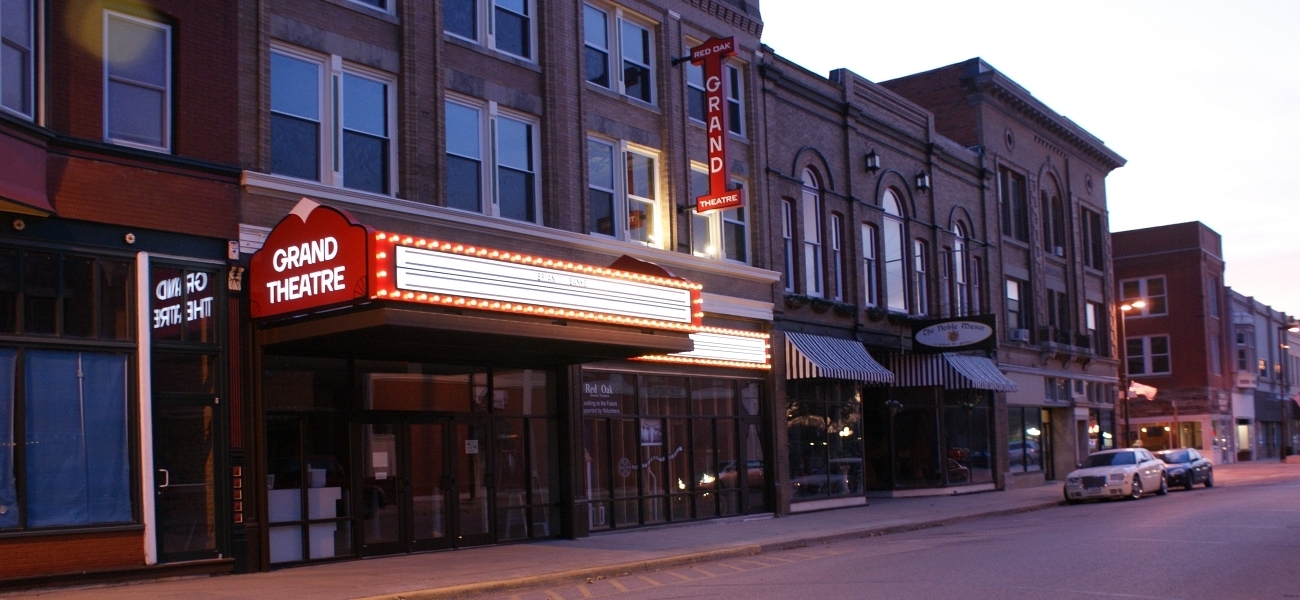 Thanks to everyone involved for a beautiful marquee, fielding phone calls from an anxious board of directors and always making us feel like we mattered. We appreciate all of you and all you did for our awesome little theater in Southwest Iowa.
Have questions? Need advice? Want to learn more?
Learn more about Erin Carey, or reach out with questions directly. Click here for Erin.
Learn more about Theatre Signage by clicking here.
Like what you see?
Get more ideas, design, and inspiration delivered to your inbox on a monthly basis. Sign up for our email, we won't waste your time!