Design-Build Series Part 1: Introduction
`
The Design-Build process, with regard to signage, is a unique process. The goal is to deliver a highly professional consultative and creative service consisting of logical, sequential steps to analyze, plan, design, specify, document, implement and maintain identity and wayfinding signage solutions that meet client expectations for interior and exterior signage solutions. In a nutshell, deliver what you want, when you want it, and within budget.
Your facility's wayfinding system is an essential component of your image and a direct reflection on your facility's operations. An effective signage program moves people efficiently, minimizes confusion, improves perceptions of your facility, your brand and ultimately makes everyone's job easier — including yours.
Our Design-Build Services is a proven methodology for achieving such a signage program in the most effective and economical way. Progressive corporations, real estate developers and management organizations around the country, have used Design-Build Services to realize immediate efficiency gains in terms of schedule, traffic circulation, design, planning, and implementation processes while also achieving cost savings.
The hallmark of the Design-Build process is single-source capabilities. The capabilities deliver; traffic circulation and code analysis, planning and design development and documentation. This is done in concert with your facility's existing signage program if available.
The final deliverable is a detailed design and construction specifications of every sign type needed in your facility. Ultimately reducing project schedules, setting the quality standard, and holding budgets which facilitate smooth program implementation, future system maintenance, and improving reordering and maintenance of your program through our On-Line Ordering technology.
Five Key Elements to Design-Build Signage
Need.
By understanding your organization and your goals, we provide insight into effective solutions and establish long-term results, not just short-term fixes.
Design.
Your brand is projected in comprehensive and sophisticated designs that are consistent with your image.
Function.
Our integrated approach ensures your solutions are functional, consistent with your goals, and most importantly, focused on solving your needs.
Budget.
By working together to establish a budget early in the process, there are fewer questions and delays along the way and more time spent on developing a cost-effective program with maximum value.
Time.
Our unique setup substantially reduces delivery times for projects by streamlining all phases into one smooth, efficient process.
Why Design Build Signage Direct with Sign Manufacturer?
Custom manufacturing capabilities. This allows value engineering products, materials, and manufacturing methods to get the most bang for your buck.
Experience across many verticals of projects. This team brings ideas across verticals that turn into creative solutions to unique challenges.
Seamless integration into architectural environments. We're designers, environmental and production designers on STAFF that ensure sign designs complement their environment.
Production designers work IN our manufacturing plant. We design to build, not "conceptually" someone else can figure it out and try to build.
ADA regulation standards are at the forefront of everything we do, design, and build.
Functional design options that include modular sign products that make for easy updates.
Experienced project management team working WITH design team IN our manufacturing facility.
Active members of the SEGD (Society for Experiential Graphic Design) know the trends and changes for their industry.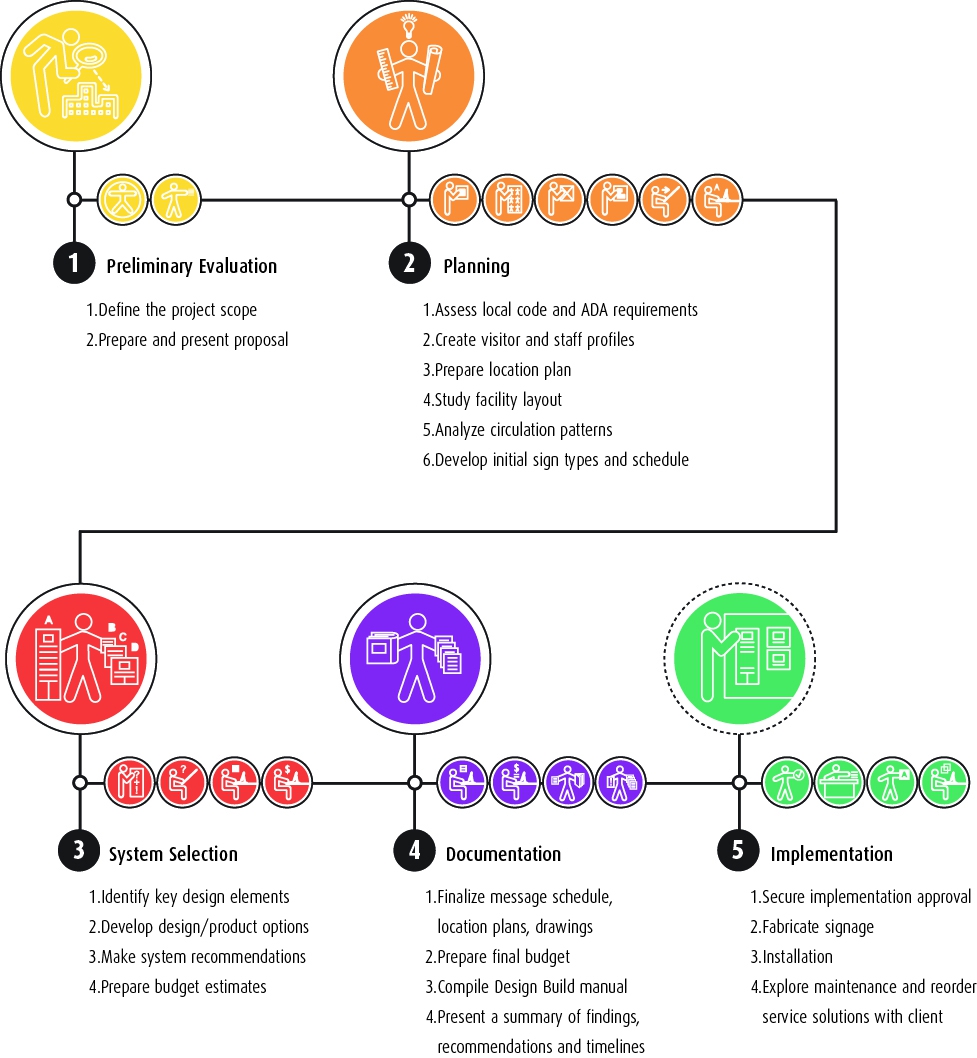 Like what you see?
Get more ideas, design, and inspiration delivered to your inbox on a monthly basis. Sign up for our email, we won't waste your time!