A Century of Caring: History Wall Signage Highlights 100 years of UNMC Munroe-Meyer Institute
"The true measure of any society can be found in how it treats its most vulnerable members" Gandhi
This quote greets guests in the atrium of UNMC's Munroe-Meyer Institute. The dimensional letters are on a wall below an art installation of a fantastical flock of birds. The colorful artwork and inspirational words set the tone for the mission of the Munroe-Meyer Institute.
Since 1919, the Munroe-Meyer Institute has been an advocate and ambassador for those with intellectual and developmental disabilities. The new Omaha location continues with those goals.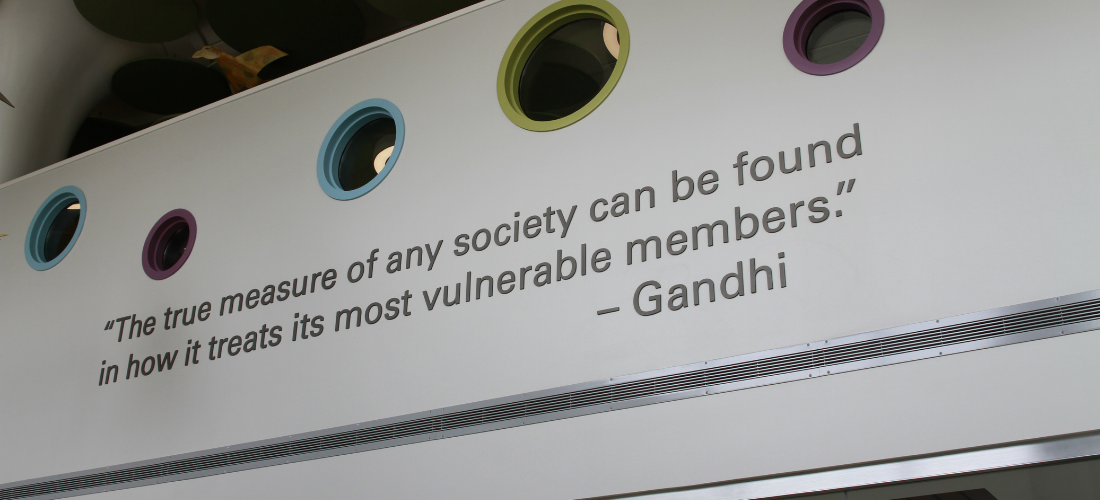 Latitude was brought in to design and build signage that is as playful as it is functional for this space that serves more than 15,000 patients every year. The Munroe-Meyer Institute is part of the University of Nebraska Medical Center (UNMC) organization and collaborates with the University of Nebraska Omaha, creating a standard signage design between the organizations.
A vibrant red wall with interconnected circles and a digital display recognizes donors while keeping the space upbeat for the kids. The video board allows for the ultimate flexibility in customizing messaging and updating new donor information. The dimensional circles connect the space to other circular signage and lively designs throughout the building.
"The playful details throughout this project really made it special," says Erin Carey. "Every project is important, but I felt really connected to this project. Signage is a small aspect of the overall project but what we're doing is going to serve these children, and I hope, brighten their day in some small way."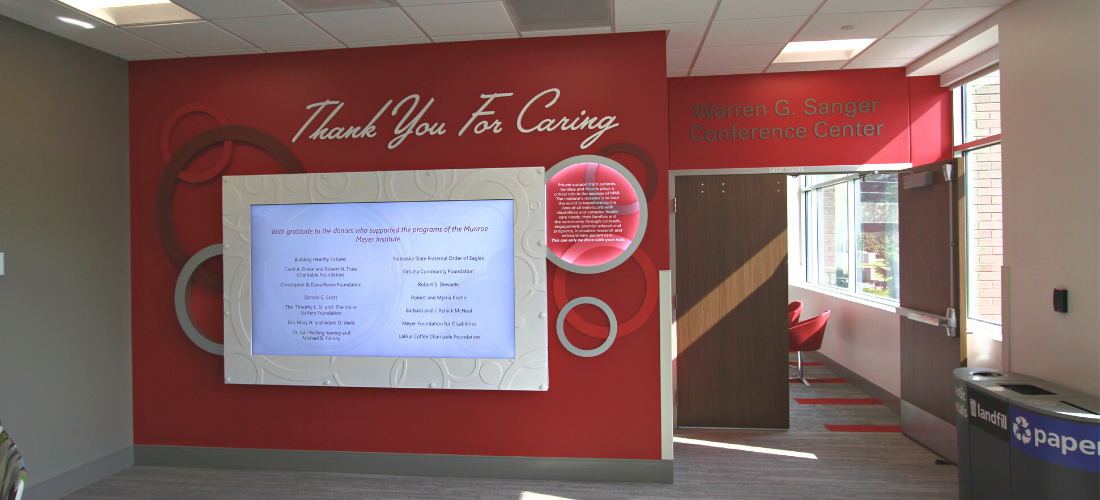 History Wall Signage: Design is in the details.
One of the most distinctive signage installations within the Munroe-Meyer Institute is the history wall. As part of the 100-year anniversary, MMI published the book A Century of Caring about their origins and how they've grown into the organization they are today.

Andrej Steinbergs, EGD/Production Designer for Latitude, poured through the book to tease out the most important milestones and special events to design the history wall. "I looked for inspiration by immersing myself into the company's history," says Steinbergs, "I spent several days reading the book cover to cover. I did a lot of yellow highlighting. From there I pulled the content and images from their many milestones. I felt a history wall of that magnitude deserved some dynamic energy so I called for concealed LEDs to add drama."
The history wall has a lot of depth—literally. The colored panels filled with text and images are recessed into the wall. Vertical letters, routed out of acrylic, are installed a few inches in front of the panels and they each hide a channel for LED illumination. "The layered effect really makes this history wall come to life and attracts people to take a second look," says Carey.


The Munroe-Meyer Institute transforms the lives of individuals with disabilities through outreach, educational programs, innovative research and extraordinary patient care. We were honored to play a part in making their vision for transforming their building come to life. If you want signage that tells a story or creates a unique vibe for your building, reach out to our team for custom signage solutions and check out our blog on "How to: History Wall." Learn if a history wall is the right answer for your company and the steps to create one!
Like what you see?
Get more ideas, design, and inspiration delivered to your inbox on a monthly basis. Sign up for our email, we won't waste your time!