Hoff Family Arts and Culture: A Historic Renovation Creates a Hub for Arts, Culture, and History
Signage plays a critical role in this historic renovation and update. From completing the design intent of the facility to honoring each donor in an artistic manner, this project is all about the details.
From a McCormick Harvesting Machine Company Building to an Arts & Culture Hub for the Community
Art inspires and connects us all. And the Hoff Family Arts & Culture Center is itself a work of art.

Pottawattamie Arts, Culture & Entertainment (PACE) seeks to develop and promote arts and cultural activities in Council Bluffs, Iowa. In early 2020, PACE unveiled the new Hoff Family Arts & Culture Center, which includes a theater, rehearsal areas, gallery, artist studios, classrooms, a teaching kitchen, and more. Two weeks later they were shut down because of the pandemic. Currently, they are slowly opening their doors, follow their Facebook page for updates here.

At the core of this 95,000-square-foot complex is a historic building. Originally built in 1894 by the Chicago-based McCormick Harvesting Machine Company, the building was used as a dealership. It was listed on the National Register of Historic Places in 2012, and much of the building's history was preserved in the project by Alley Poyner Macchietto Architecture.
The design embraces the original exposed brick and bridges, old and new, with a modern industrial vibe that features textured metal, wood, and stone surfaces.
This facility both makes arts and culture accessible to all and helps in the revitalization of this area as a Main Street cornerstone.

Bringing Dimension to Donor Recognition Signage
PACE was able to open the Hoff Family Arts & Culture Center with tremendous financial support from the community. And they wanted to recognize the patrons of the arts with a donor wall that was as dynamic as the building itself. Arranged in a series of sizes, depending on the level of giving, the donor wall features a myriad of sign options.

"Collaborating with our friends at Alley Poyner Macchietto Architecture and the team at PACE we were able to value engineer the original design to fit their budget, and lastly, categorize and verify each name which is always a detailed process," says Katie Gunia, signage project manager.
The donor wall is a collage of dimensional letters in acrylic, plaques with etching or recessed text painted black, and vinyl lettering work together to create a beautiful mosaic of donor names. The black, white, and wood colors of the donor wall coordinate perfectly with the center's industrial loft feel.
"Latitude's vision matched the combination of historic and new construction perfectly," said Danna Kehm, CEO of PACE. "Located in the entrance of our lobby, the care, intention, typography, and form of the donor wall delivers a powerful dedication to our generous donors. Visitors frequently claim it is 'the best they have ever seen'."
Visitors frequently claim it is 'the best they have ever seen.'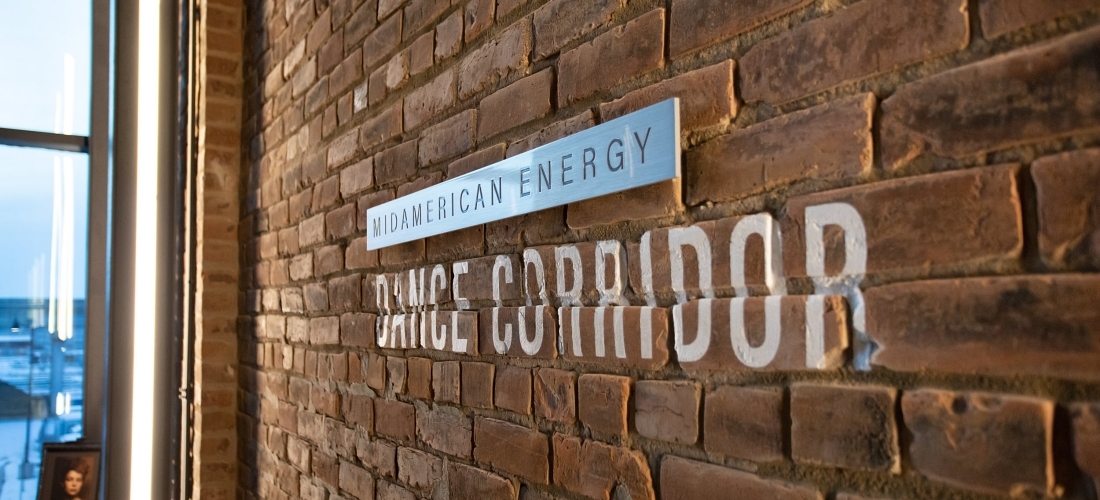 Keeping the History with Architectural Signage
There are no boring signs within this building dedicated to celebrating the arts. Routed aluminum letters that hang from the ceiling greet you at the bar and welcome you to the gallery on the fourth floor. Etched metal signs pair with letters painted on brick walls. The ADA signage 'belongs' in this space with it's natural wood tones and beautiful grains.
Even the restroom signage indicates that this building is a work of art. "This is not your typical restroom directional sign," Gunia says. "Every element of this project was thoughtfully designed."

Thoughtful Signage That Matters
From donor recognition to ADA signage it's important that the design, manufacturing, and installation is thoughtfully executed. If you'd like to learn more, or have questions, find your expert here.
An installer from the sign team, Shawn, came to fix a letter on our donor wall. He double checked every single letter! We appreciated his dedication to our donors and the donor wall.
Like what you see?
Get more ideas, design, and inspiration delivered to your inbox on a monthly basis. Sign up for our email, we won't waste your time!