New Wayfinding Signage Gives a Small Town Big City Vibes
Colorful streetscape signage throughout Anamosa, Iowa greets visitors with a polished look.
As the pumpkin capital of Iowa, Anamosa wanted to make a great first impression to visitors with stylish wayfinding signage. It was especially important to the community to have the new wayfinding signage up by the time RAGBRAI rolled through town in late July 2021.
"Before the new signs went up, there was a mismatched collection of signs throughout town," Bryce Carlson, Eastern Iowa Sign Expert at Latitude Signage Latimer Group. "Now the signage matches the city's branding colors and logos. The messaging is clear and easy to read. It gives the city a polished wayfinding experience."

Designing Wayfinding Signage
To kick off the design process, Latitude developed three distinct looks for the city to review. Anamosa city leaders selected an open, modular design that could be mounted to existing poles as well as to new signage poles.
Aluminum panels on the signs are a flexible option for Anamosa. The panels can be removed or updated if there are changes in the future. Reflective white vinyl lettering makes it easy to read the directional signs any time of day or night without having to have the signs illuminated.
"We created custom mounting hardware for the signs," says Carlson. "Since some signs were being retrofitted onto existing poles and some were being attached to new poles we had to accommodate a wide range of pole diameters. The flexible custom mounting feature also allowed the installers to adjust the height of the signs to work around tree branches or other impediments."

A Plan for Installing Directional Signage
One of the trickiest parts of developing wayfinding signage is determining exactly where the signs should go. Our signage experts did an analysis of how people entered the town and identified key places where drivers were making decisions.
The wayfinding signage in Anamosa focuses on directing visitors to popular municipal sites and to several public parking areas. "We thought through how people will use the wayfinding signage from their vehicles and on foot. For example, once people are parked they will see a directory map in the parking lot guiding them with walking directions to key points. Our team physically walked around Anamosa on several occasions to make sure all the signage locations made sense and worked within the city's existing structures," says Carlson.

From this study, a plan was created with sign types and the location for the best user experience for people getting around town. Keep in mind, the general audience for these signs aren't locals that know where they are going, but new-comers and visitors who need to feel comfortable quickly.

What Copy to Use on Wayfinding Signage?
Once there was a plan for the signage locations, the team refined the exact text that would be on each sign. "Wayfinding signage works best when it has simple words in a large font that will give users a quick read to direct them to selected targets," Carlson says. "To make the most impact we used words like 'Hospital' instead of 'Jones Regional Medical Center.'"
This level of attention to detail makes the wayfinding signage successful. High impact signs simplify navigating the city and create a cohesive experience for visitors. "We didn't want to add any visual clutter to the town. Our goal was to create a crisp, clean solution that made it easier to get around, and I think the results speak for themselves."

If you were in town for RAGBRAI this summer, will be in town for Pumpkinfest in the fall, or just want to hop off Highway 151 for a scenic stop, the new Wayfinding signage in Anamosa will welcome you to your destination.
And if you're not cruising through northeast Iowa but want to learn more about streetscape signage, reach out to one of our signage experts.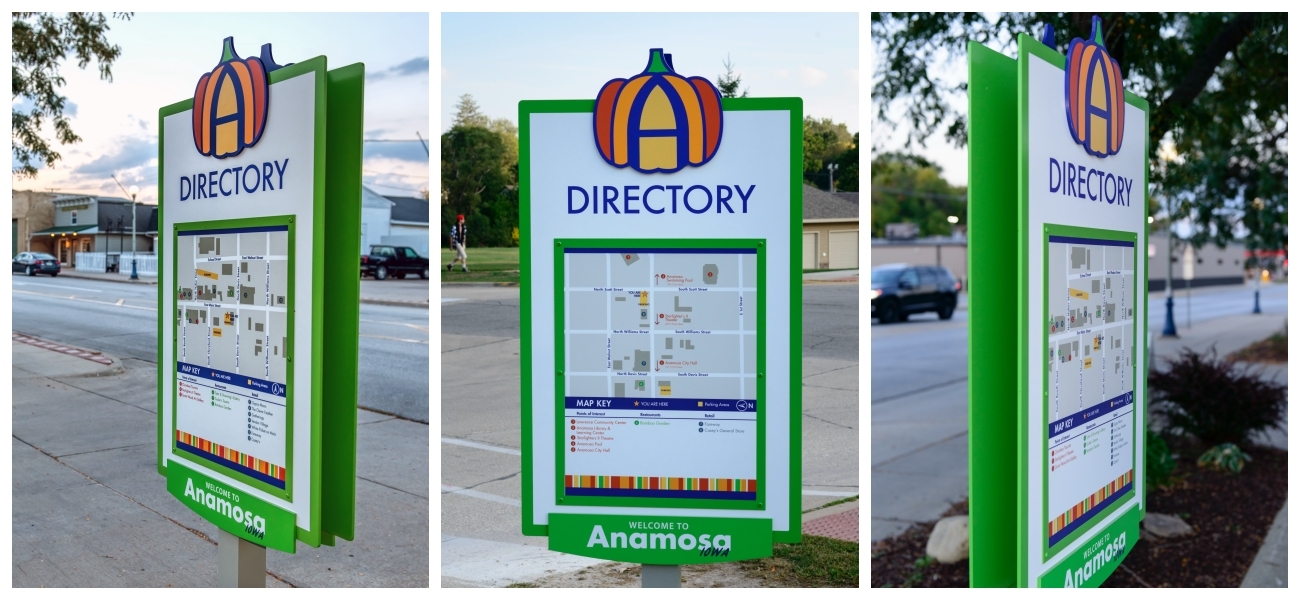 Like what you see?
Get more ideas, design, and inspiration delivered to your inbox on a monthly basis. Sign up for our email, we won't waste your time!