Retail Outlet Signage at Outlets of Des Moines: Leading the Way
Signs the finishing touch for a luxurious outlet mall experience.
Iowa shoppers have a new destination to discover at the Outlets of Des Moines in Altoona. This new shopping oasis was brought to the Des Moines metro area by New England Development of Boston. During the design and construction of the outlet mall New England Development turned to the experts at Latitude Signage Latimer Group—just 40 miles from the mall—to develop custom signage solutions.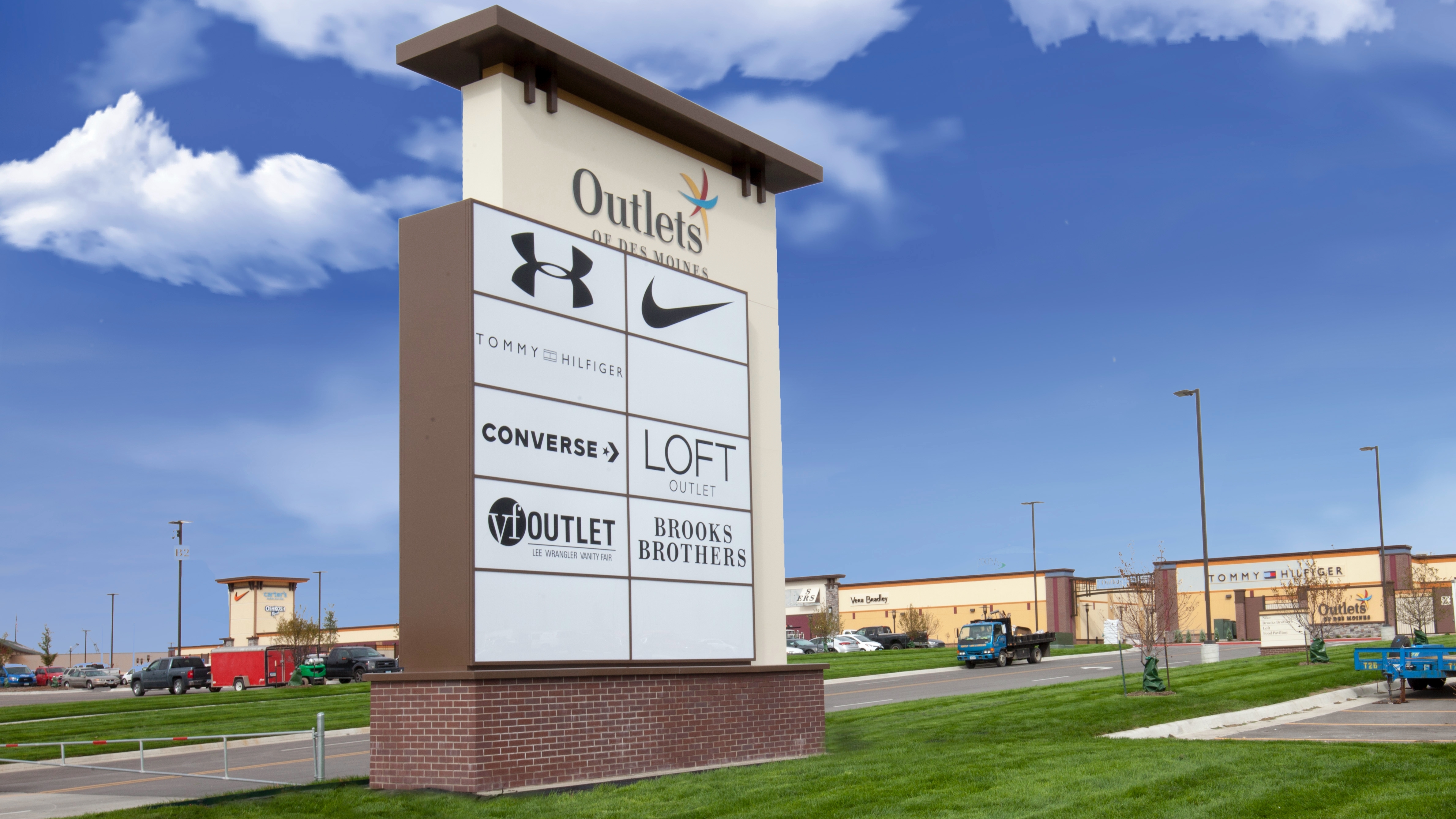 Making an Impact with Entrance Signage
Guests walking into the outlet mall are welcomed at three entrances to the Outlets of Des Moines by trusses that stretch across the walkway. This aluminum sign with brick columns on each side instantly imbues a Frank Lloyd Wright inspired craftsmen-style look to the shopping center. Latitude worked with sister company Image First to produce the complex rectangular design within the large exterior trusses.
Another signature sign for the Outlets of Des Moines is a large monument sign with push through graphics. Push through graphics is an architectural signage solution in which ¾-inch thick acrylic in a custom shape—in this case the Outlets of Des Moines logo—is pushed through an aluminum frame and lit from behind. The effect is stunning day or night.
The more functional directory signage also has convenient signage solutions. This 20-foot tall sign has 10 spots to highlight anchor stores. The store names or logos are applied in vinyl to a white translucent panel. In the evening the sign is lit from behind creating a sophisticated silhouette of each logo. Each panel is also easy to remove and replace if there are changes to the store lineups in the future.

Welcoming Visitors with Wayfinding Signage
With both vehicles and pedestrians moving through the space, there had to be a series of wayfinding solutions. Designed with decorative caps and a linear feel that complements the prairie-style of the large monument signs, stylish wayfinding signs for cars direct traffic to stores or back to the main roads. Foot traffic is guided by signage attached to light poles. They are designed with an aluminum accent that repeats the patterns seen on the entrance trusses.
Coming Down to Coordination
For this complex project Latitude Signage managed everything from back of house, restroom, and ADA signage to the oversized interstate sign and decorative entrance monument signs. It took intricate coordination between the production designers, project management, production, and installation to make it all happen, but these beautiful signs were ready to welcome shoppers when the Outlets of Des Moines opened in October 2017.
Like what you see?
Get more ideas, design, and inspiration delivered to your inbox on a monthly basis. Sign up for our email, we won't waste your time!